My residency as Embedded Composer in 3 with BBC Radio 3 in partnership with Sound and Music has come to an end!
The past 10 weeks have been a real journey for me, and it's been a true privilege to work with the station and so many superb musicians on creating and recording so many new pieces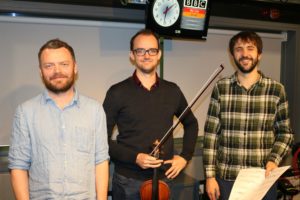 . I can't quite believe it's over!
Highlights have included working with Guy Johnston, the Orchestra of the Age of Englightenment, the Workers Union, the BBC Singers, Ashley Riches with Sarah-Jane Bradley, the Workers Union Ensemble, Mark Simpson, Ben Baker, Richard Uttley, Trio Isimsiz, the Van Kujik Quartet and even a broadcast into space!
It's also been a real pleasure to appear alongside Liam Byrne, Oli Hazzard, the Golden Age of Steam with Ross Sutherland and Robert Worby on other shows. If you'd like the chance to catch up with pieces, they can all be found on this page of the Radio 3 website.
I was also delighted that the station played my O Adonai on Record Review on Saturday 10 December (recently released by Siglo de Oro and Sam Corkin on Delphian Recordings), followed by the complete recording of my Dance Suite on Hear and Now the same day (written for and recorded by Richard Uttley last year). Do click the links above to catch up with the shows on iPlayer.
Still to come is my collaborative project Jerusalem and Other Stories, created with the poet Ross Sutherland and the Golden Age of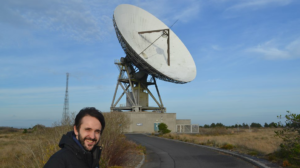 Steam, for broadcast on Late Junction on 15 December. Tune in if you can!
I'd like to take this opportunity to say an enormous thank-you to everyone involved: the wonderful staff of Radio 3 and Sound and Music, and all of the brilliant musicians I've worked with. It's been a unique and unforgettable experience, and incredibly enjoyable and humbling to have my music broadcast across the world (and galaxy!) to so many listeners. Thanks also to all those who got in touch with kind messages of support throughout the period.
Time now for a short break, followed by much work on my next orchestral piece for Lucerne Festival in the summer!
Press stories about Matthew's residency can be found here: New Statesman November 2016, The Spectator November 2016, Classical Music Magazine December 2016, Interlude HK.