It's been a true delight recording this week (4-5th January) for my debut album with Delphian Records (out later this year).
Sessions took place in the stunning setting of Stapleford Granary, which also currently houses an exhibition of textile art by my own mother, Sabine Kaner.
The first two sessions featured Benjamin Baker, Daniel Lebhardt and Matthias Balzat in my Piano Trio, followed by Five Highland Scenes for violin and piano, pictured below.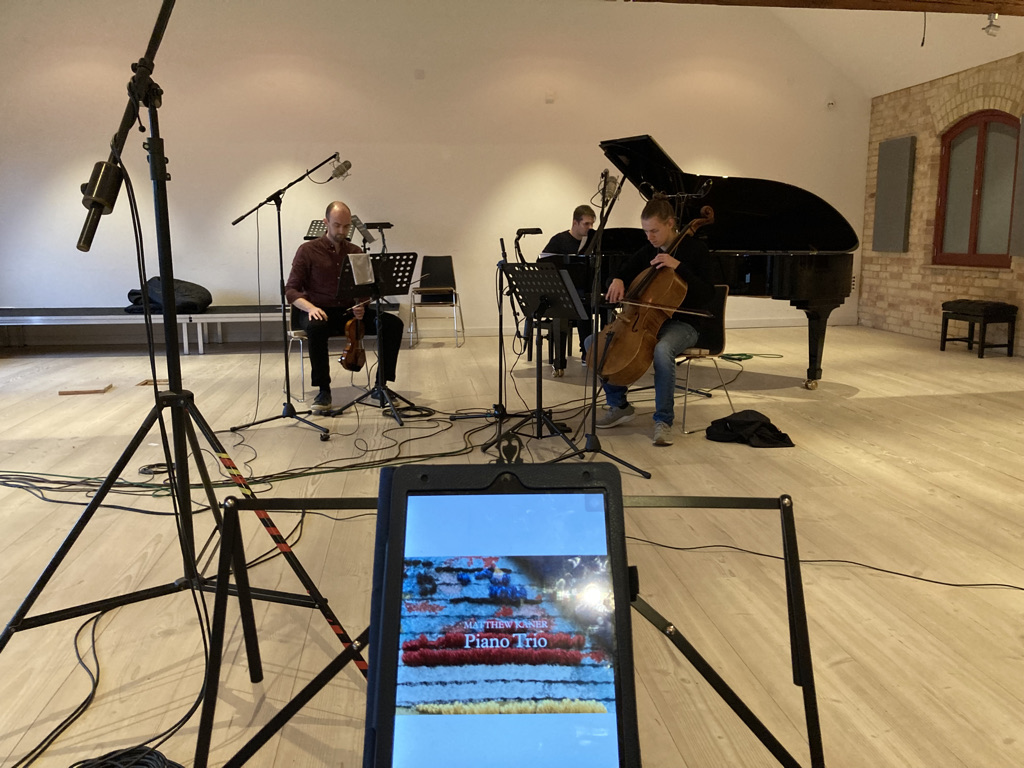 The following day the Goldfield Ensemble (seen warming up below) recorded my recently premiered clarinet quintet, At Night.
Further sessions are due to take place in the coming weeks, with Guy Johnston performing my Cello Suite and Mark Simpson playing The Swift and The Kestrel for basset clarinet.
If you'd like a little preview of the music, here's a short clip of Ben and Daniel in rehearsal, performing "Fireside Tale" from Five Highland Scenes:
Posted on January 6, 2022
It was a real pleasure after the year and a half since the pandemic began to attend the premiere of my Five Highland Scenes at East Neuk Festival in Fife, performed magnificently by Benjamin Baker and Daniel Lebhardt.
The Bow House at East Neuk is a particularly sonorous venue, and it felt incredibly special to hear chamber music played live and sounding so resonant after so long away from concert halls.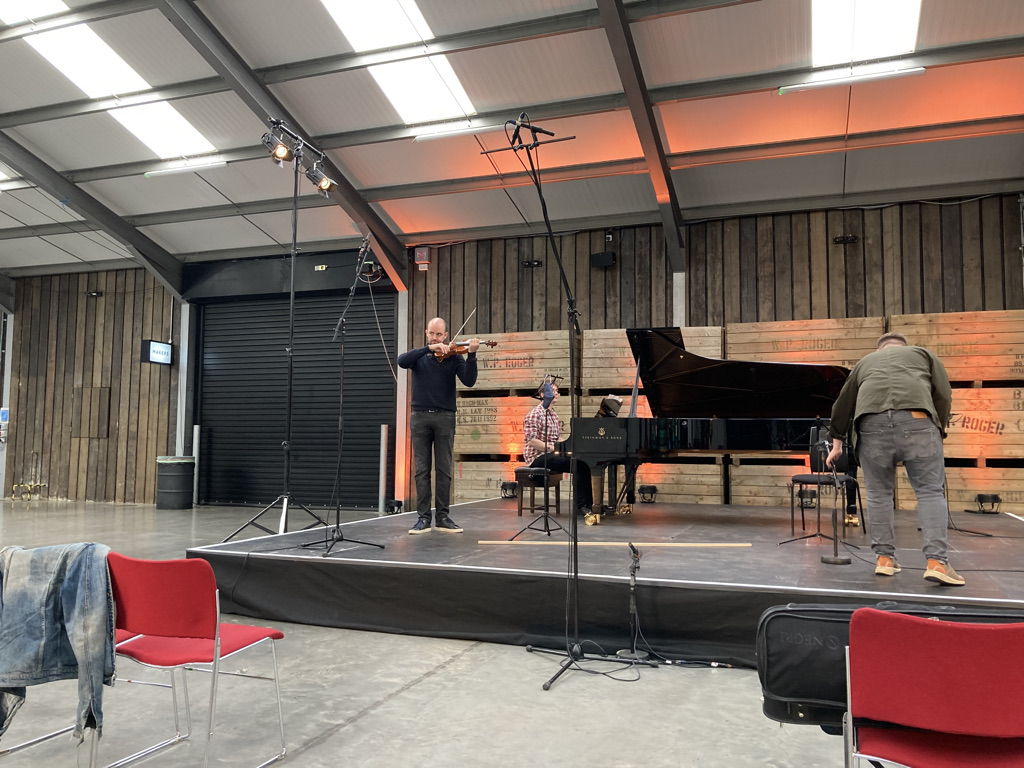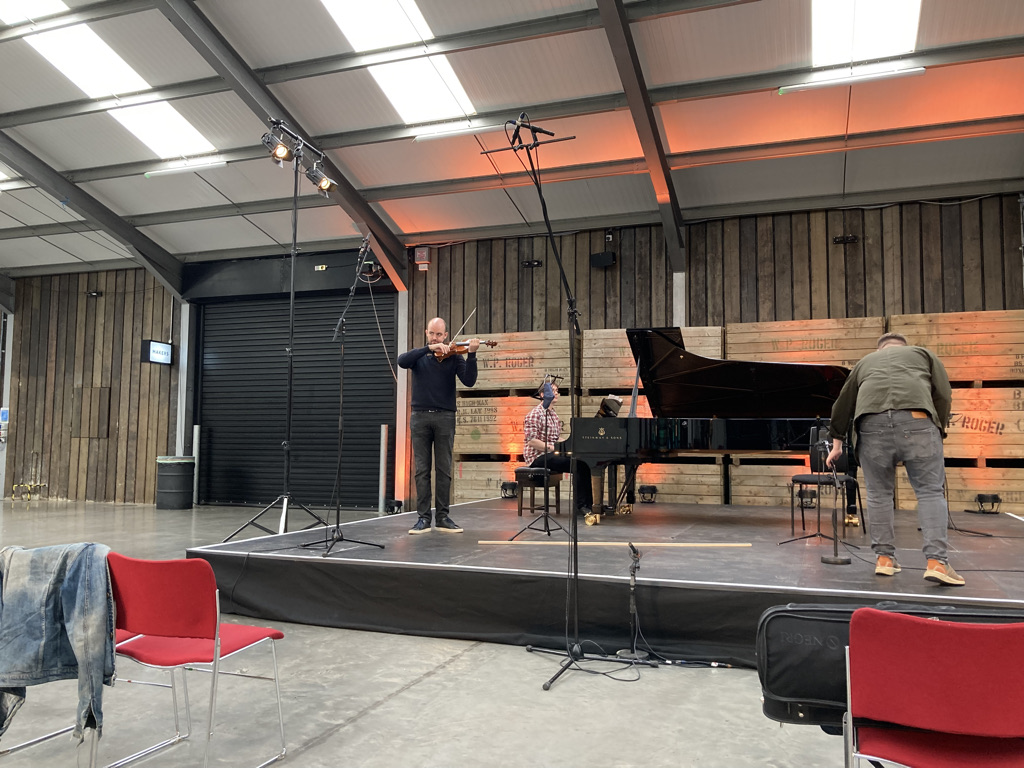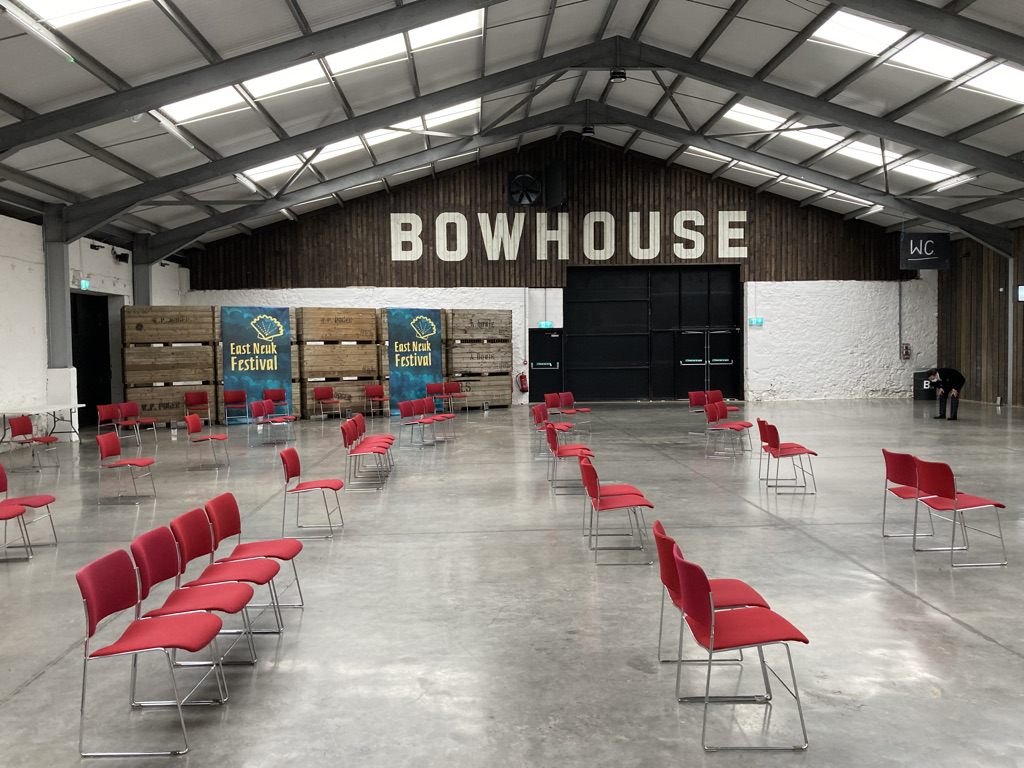 We had some lovely reviews and responses to both the concert and the premiere, with some highlights shown below:
The concert was recorded for future broadcast on BBC Radio 3; stay posted for details in due course!
Posted on July 8, 2021
The last 12 months have been a remarkable challenge for all of working across the arts and it was with great sadness that many of my projects due to take place in 2020 (and even early 2021) had to be postponed.
However, I was absolutely delighted earlier this week to be able to attend the premiere of two new works for Basset Clarinet with the wonderful Mark van de Wiel playing for the London Sinfonietta, in person at King's Place. What a superb feeling to hear my music in a live concert hall after all this time! You can catch the performance (and discussion hosted by Zoë Martlew) below.
Despite some large projects still being on hold, a few chamber music premieres will be happening this year. Many of these haven't been officially announced yet, but do stay posted, and I'll update my website and mailing list when official confirmation comes in.
In the meantime, a little preview of a piece that will premiere in full later this year, "A Light Dusting" from Five Highland Scenes, will be heard on BBC Radio 3 on April 13th at 19:30.
Posted on March 25, 2021
My new stage work Hansel and Gretel (created in collaboration with poet Simon Armitage and artist Clive Hicks-Jenkins) got off to a fantastic start to a sold-out audience in the Parabola Theatre at Cheltenham Festival last Saturday. Adey Grummet and the Goldfield Ensemble gave a fantastic performance of the music and poetry, and the puppeteers (Lizzie Wort and Di Ford) played the roles of the children beautifully.
It was a delight to be able to share some of our creative process with the audience in the reception afterwards, and I'm very much looking forward to the rest of the tour.
There have been some lovely comments in the press. The Guardian review (4*) from Rian Evans is particularly good, recognising that 'In this striking modern update… the children are refugees and the fairytale is a nightmare' and highlighting the importance of the close relationship between all the art forms (poetry, visuals, music and puppetry) in presenting this new vision of the story. The full thing is here. There's also an insightful little blog-post review of the piece here.
The tour now continues to Lichfield Festival (13 & 14 July – tickets here) and then Three Choirs Festival in Worcester (29 July – tickets here), before a little break over August. It then picks up again in September at the Oxford Contemporary Music Festival.
Phil Cooper (the wonderful artist who created most of the visuals in the show from Clive Hicks-Jenkins' original designs) has made a beautiful collage (below) of the forest from Hansel and Gretel and relocated it just outside Lichfield Cathedral in preparation for the coming date this weekend. It looks just as though it belongs in the piece! Do check out his fantastic blog, which gives a fascinating account of his creative journey and involvement in the project from its earliest beginnings.
Full tour dates and booking details for the rest of the run are here on the diary page. Many thanks to John Nelson (group photo on stage) and my mother, Sabine Kaner (reception photos), for the lovely snaps taken at Cheltenham above.
Posted on July 12, 2018
I'm personally a little dismayed that, in spite of some very vocal opposition to the move [1], very few members of the composing establishment have come out in support of David Pickard and the BBC for pledging to offer 50% of their commissions for new Proms pieces to female composers from 2020.
As a young(-ish) composer myself I really don't think we males have anything to fear from this new development. As a teacher in HE, I am very aware that trying to recruit female composers to degree courses (and to occupy lectureships) is a genuine struggle. Frankly, anything that encourages talented young women to have the confidence to enter the profession is positive as far as I'm concerned.
Knowing a handful of female composers as friends, colleagues and students has made it very evident to me that it's a lack of role models (i.e. the appearance of equal opportunities) that prevents many women (and perhaps even more those of minority backgrounds) from pursuing careers as composers in the UK. Strangely enough, not seeing anyone who looks like you doing the career you're considering can be enough to put you off giving it a go. (It's hardly surprising when most young composers' financial situations are so precarious anyway [2].)
Some colleagues have also suggested that introducing a 50% quota will somehow damage the current supposedly meritocratic system that leads to the most talented (mostly male) composers receiving the best commissions. Well, although I'm relatively near the beginning of my career, I have now witnessed how some commissions and opportunities are awarded to composers, and I'm fairly certain that no such meritocracy exists in reality. Being a good composer does of course count for a lot, but the truth is that having the right networks and contacts is still just as important. To those on the outside, large organisations (such as mainstream orchestras and festivals) can seem pretty closed and inaccessible.
So hats off to David Pickard and the BBC. There's still a long way to go, but I think this represents genuine progress.
[1] e.g. https://www.telegraph.co.uk/news/2018/03/01/bbc-proms-backlash-gender-balance-will-see-fading-opportunities/
[2] See http://onlinelibrary.wiley.com/doi/10.1111/1468-4446.12359/abstract
Posted on March 9, 2018
I'm now back from Lucerne following the premiere of my new orchestral piece Encounters, with the superb Lucerne Festival Academy Orchestra and Jeffrey Means, and am stuck in with teaching back at the Guildhall School. The concert, also featuring new works by Lisa Streich and Luca Frascenconi, was recorded live, and you can listen to the entire programme, as broadcast on RadioSRF here (until 20 October 2017).

Pictured right is a snapshot from the workshops last year, with mentor Wolfgang Rihm and visiting composer Helmut Lachenmann from the 2016 festival in the background. Below you'll also find the final project video, offering special insights and behind-the-scenes interviews about the development process for the piece from the commissioner, Roche, alongside interviews with conductor Jeffrey Means, Wolfgang Rihm and scientist Angela Dischinger from Roche.
Posted on October 3, 2017
My residency as Embedded Composer in 3 with BBC Radio 3 in partnership with Sound and Music has come to an end!
The past 10 weeks have been a real journey for me, and it's been a true privilege to work with the station and so many superb musicians on creating and recording so many new pieces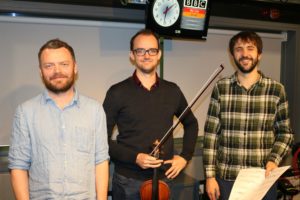 . I can't quite believe it's over!
Highlights have included working with Guy Johnston, the Orchestra of the Age of Englightenment, the Workers Union, the BBC Singers, Ashley Riches with Sarah-Jane Bradley, the Workers Union Ensemble, Mark Simpson, Ben Baker, Richard Uttley, Trio Isimsiz, the Van Kujik Quartet and even a broadcast into space!
It's also been a real pleasure to appear alongside Liam Byrne, Oli Hazzard, the Golden Age of Steam with Ross Sutherland and Robert Worby on other shows. If you'd like the chance to catch up with pieces, they can all be found on this page of the Radio 3 website.
I was also delighted that the station played my O Adonai on Record Review on Saturday 10 December (recently released by Siglo de Oro and Sam Corkin on Delphian Recordings), followed by the complete recording of my Dance Suite on Hear and Now the same day (written for and recorded by Richard Uttley last year). Do click the links above to catch up with the shows on iPlayer.
Still to come is my collaborative project Jerusalem and Other Stories, created with the poet Ross Sutherland and the Golden Age of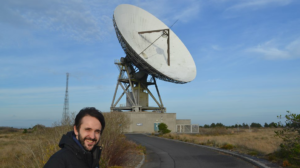 Steam, for broadcast on Late Junction on 15 December. Tune in if you can!
I'd like to take this opportunity to say an enormous thank-you to everyone involved: the wonderful staff of Radio 3 and Sound and Music, and all of the brilliant musicians I've worked with. It's been a unique and unforgettable experience, and incredibly enjoyable and humbling to have my music broadcast across the world (and galaxy!) to so many listeners. Thanks also to all those who got in touch with kind messages of support throughout the period.
Time now for a short break, followed by much work on my next orchestral piece for Lucerne Festival in the summer!
Press stories about Matthew's residency can be found here: New Statesman November 2016, The Spectator November 2016, Classical Music Magazine December 2016, Interlude HK.
Posted on December 12, 2016
…Time for another quick update. In the past few weeks there have been recordings and broadcasts of new pieces for the Orchestra of the Age of Enlightenment, Mark Simpson and Richard Uttley. (Click here to listen and see some of the photos from the recording sessions below.)
Listen out on Radio 3 over the next few weeks for yet more new pieces with the Van Kujik Quartet, Guy Johnston and BBC Singers others!
You may also be interested to read this recent interview with HK Interlude – The Pleasure of Making Things: In touch with Matthew Kaner.
Posted on November 2, 2016
With apologies for the delay, here are the latest two pieces from my Embedded residency at BBC Radio 3.
Snowbells for Violin and Piano
(…and a few photos from the recording session with superb performers Benjamin Baker and Richard Uttley!)
Contemplations for Viola and Bass-Baritone
The next work is a setting of Franz Kafka for the fantastic Bass-Baritone Ashley Riches and brilliant violist Sarah-Jane Bradley. The texts are excerpts from the author's notebooks and his very first published work Contemplation.
…and tune in to Breakfast on Monday morning at around 8.20am to hear the latest piece, also for Richard Uttley — solo piano — see below for photos!
Posted on October 14, 2016
And so it begins… My BBC Radio 3 Embedded Residency in partnership with Sound and Music has now kicked off! You can listen to the first of my 10 pieces for Breakfast, Collide (written for the incredible Workers Union Ensemble), and hear my short interview with Petroc Trelawney below. Stay posted for the next piece!
Posted on September 27, 2016